Partnership
Policy on Partnership Agreements,
We think it's important to take a stand on issues to support our business and because it's who we are and how we operate.
That's why we believe we have a responsibility to advocate both internal and public policies that support our business, our partners and (employees),
The policies and positions below demonstrate our commitment to being a responsible business. They range from global ethical business standards to our own guidelines for doing business. From how we supply Oil&Gas and Petrochemical products to how we ensure the best Quality alongside Facilities of Payment for our partners, we believe it is important to operate consistent with our mission:
RGE Partner Registration Guide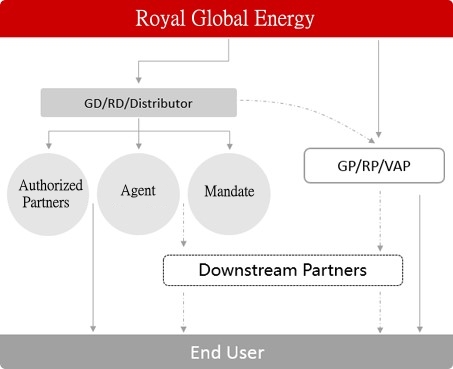 RGE's Channel Policy Principles
The principle of RGE channel policy is "to work and collaborate on a win-win basis."
Work and collaborate: Maximize the value for our channel partners and customers by motivating channel partners to explore the market and the enterprise business market.
Classification of Channel Partners
Tier1 Partner: Distributor and Value Added Partner (VAP). Distributors include Global Distributors (GDs), Regional Distributors (RDs), and Local Distributors. Global Distributors and Regional Distributors are distributors that run business in multiple countries.
Global Partners (GPs) and Regional Partners (RPs) work with Royal Global Energy "RGE" in multiple countries and regions.
Tier 2 Partner: Agents, Mandates, and Authorized Partners