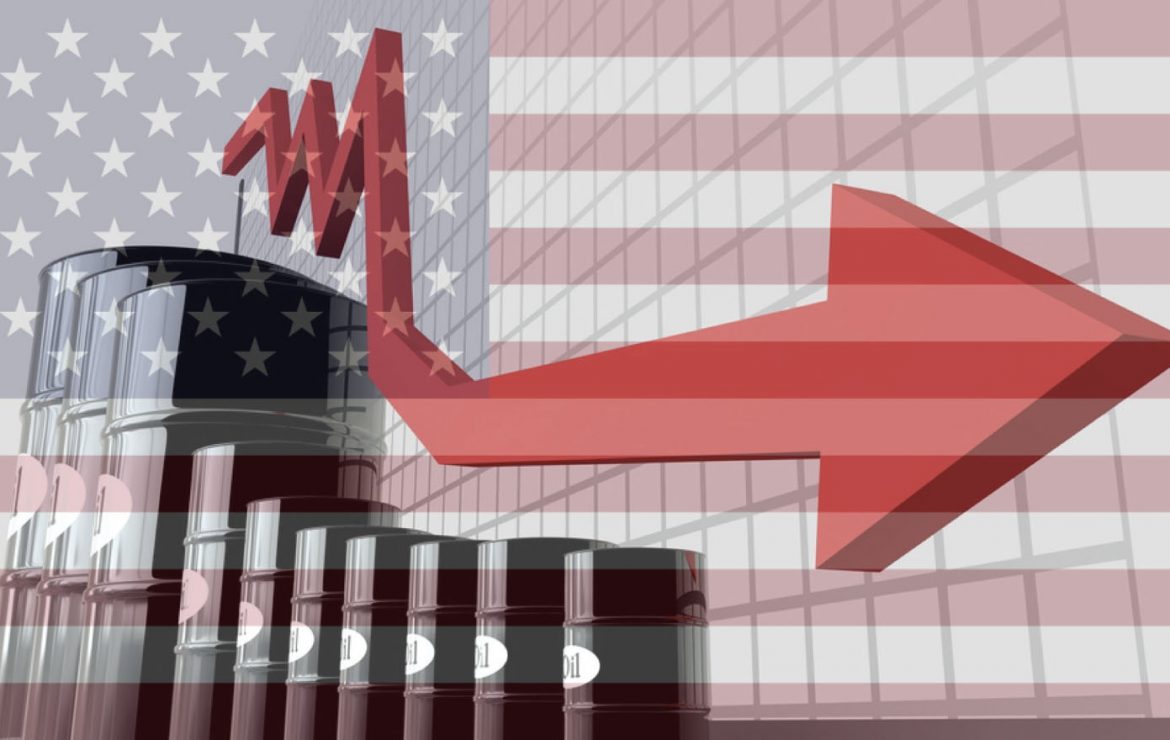 Trump's Trade Policies Could Soak The U.S. Oil And Natural Gas Industries
How much petroleum does the United States import and export?
In 2018, the United States imported about 9.93 million barrels per day (MMb/d) of petroleum from about 86 countries. Petroleum includes crude oil, hydrocarbon gas liquids, refined petroleum products such as gasoline and diesel fuel, and biofuels including ethanol and biodiesel. Crude oil accounted for about 78% of U.S. gross petroleum imports in 2018, and non-crude oil petroleum accounted for about 22% of gross petroleum imports.
In 2018, the United States exported about 7.59 MMb/d of petroleum to 190 countries and 4 U.S. territories, of which about 26% was crude oil and 74% was non-crude oil petroleum. The resulting net imports (imports minus exports) of petroleum were about 2.34 MMb/d.
The top five source countries of U.S. petroleum imports in 2018 were Canada, Saudi Arabia, Mexico, Venezuela, and Iraq.
Top sources and amounts of U.S. petroleum imports (percent share of total), respective exports, and net imports, 2018
million barrels per day
Import sources
Gross imports
Exports
Net imports
Total, all countries
9.93
7.59
2.34
OPEC countries
2.89 (29%)
0.32
2.57
Persian Gulf countries
1.58 (16%)
0.05
1.53
Top five countries1
Canada
4.28 (43%)
0.96
3.32
Saudi Arabia
0.90 (9%)
<0.01
0.90
Mexico
0.72 (7%)
1.21
-0.49
Venezuela
0.59 (6%)
0.14
0.45
Iraq
0.52 (5%)
<0.01
0.52
Note: Ranking in the table is based on gross imports by country of origin. Net imports volumes in the table may not equal gross imports minus exports because of independent rounding of data.
The top five destination countries of U.S. petroleum exports, export volume, and share of total petroleum exports in 2018 were
Mexico—1.21 MMb/d—16%
Canada—0.96 MMb/d—13%
Japan—0.45 MMb/d—6%
Brazil—0.40 MMb/d—5%
South Korea—0.38 MMb/d—5%
Trump's Trade Policies Could Soak The U.S. Oil And Natural Gas Industries
When Donald Trump ran for the presidency on the slogan of "America First," he either failed to consider or failed to convey the global realities in which we live: free trade is integral to global commerce, especially for U.S. oil and natural gas producers that have found lucrative markets in China.
In other words, American isolationism is hurting U.S. businesses and leaving the president alone and frustrated. Consider that China is the third largest importer of U.S.-produced liquefied natural gas (LNG) and that China's appetite for the fuel will only expand as its pursues cleaner energy policies.
The United States, meanwhile, changed course in 2015 and began allowing for American-produced oil to be sold overseas. As such, China has become the second largest importer of U.S. crude oil. Until June 2018, it imported 350,000 barrels per day, according to the U.S. Energy Information Administration. That equates to $1 billion of such purchases. But in August and September, those imports were reduced to zero, says Bimco, an association of shipowners.
"Unfortunately, the current trade policies being pursued by this Administration run counter to enhancing our energy dominance throughout the world," said American Petroleum Institute Director for Tax Policy Stephen Comstock. Together, oil and natural gas make up 8% of the gross national product and provide nearly 10 million jobs in the United States, the institute says.
Adding to the concerns are steel tariffs. The Houston Chronicle notes that the oil and gas sectors need new pipes to transport their fuels to other domestic markets but, the tariffs are increasing the cost of that build out.
Trump, of course, announced $200 billion worth of tariffs on Chinese goods entering the United States while China has responded in-kind, naming at least $60 billion in tariffs on U.S. products headed to China — including a 10% tariff on LNG. The goal of the Trump administration is to get China to fully open its borders to U.S.-made goods and services and to stop the theft of intellectual property.
Quiet Diplomacy
But nearly every business group in the United States testified over the summer that such disputes are best handled quietly and behind the scenes and for any irreconcilable differences to be heard by the World Trade Organization. About 26 million jobs are tied to the global economy, says the U.S. Chamber of Commerce. The Tax Foundation adds that the tariffs combined would reduce the U.S. gross domestic product by $30 billion and eliminate nearly 95,000 jobs.
"Certainty is key for the U.S. LNG industry, where timelines are years long and investments are worth billions, and these tariffs cause serious uncertainty," says Center for Liquefied Natural Gas Executive Director Charlie Riedl. "These tariffs have the power to price U.S. LNG out of the Chinese market, the second largest LNG importer in the world. Tariffs will also make long term contracts more difficult to negotiate."
Japan is the largest consumer of U.S.-produced LNG while China is second, according to consulting firm Wood MacKenzie. Royal Dutch Shell is the biggest exporter of frozen natural gas to China. Meantime, Cheniere Energy and Exxon Mobil Corp. have been prepping to build 25 facilities because of expected Chinese demand from such companies as PetroChina. Now, everyone is in limbo.
Absent a trade war, by 2020, the United States could be exporting 70 billion cubic meters of LNG and by 2040, the number could be 110 billion cubic meters, says the International Energy Agency in Paris. Chinese gas demand is forecast to grow by 60% between 2017-2023, all of which is tied to China's domestic policies to reduce local air pollution by switching from coal to gas.
While China is not imposing a tariff on U.S. crude oil at the moment, the threat of an all-out trade war is still affecting those sales to China. China, for example, can replace any U.S. supplies with those coming from the West African nations of Nigeria and Angola that is the same quality as that produced here.
Shipowner association Bimco says that China had gotten 23% of it oil from the United States in 2017 but, in August and September, it bought nothing from this country. While China is trying to diversify its oil supplies, it has a choice from where to buy its crude oil: "The trade war between the U.S. and China is now impacting trade in both tariffed and some un-tariffed goods with both countries looking elsewhere for alternative buyers and sellers."
Companies Will Cut-and-Run
To be sure, both U.S. oil and natural gas could find markets beside that of China. Most notably, that includes Europe, South America and South Korea. But if the U.S. forsakes China's potential, it would have huge implications for oil and gas producers. Meantime, Chinese energy companies have been looking to invest hundreds of billions into the American economy — ventures that are now on hold.
"China is set to become the world's largest gas importer within two-to-three years," Fatih Birol, the International Energy Agency Executive Director, said. "China becomes the largest natural gas importer by 2019, overtaking Japan."
While Trump's slogan is "America First," in actuality it is "Trump First." For that reason, it is in his self-interest to fix this problem that he created. Otherwise, the 2018 Midterm election results will be a harbinger of the pain he will feel if he does not do so. Not only will U.S. oil and gas companies cut-and-run if this trade war extends much longer but the American economy will take one to the gut.